This article needs more images


You can help by adding some relevant images or discussing changes on the talk page.
Please remove this template when images are added.
Note: Please remember to follow our image policy in naming and licensing before adding images.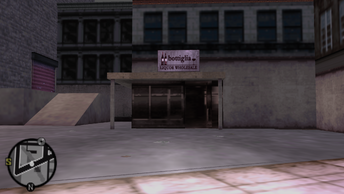 Bottiglia is a bar in Fort Staunton, near the Carson General Hospital, at Liberty City in 1998, the setting of Grand Theft Auto: Liberty City Stories, and a liquor store located in Little Havana during Grand Theft Auto: Vice City Stories. In GTA LCS, The building still stands after the mission Bringing the House Down, wherein Toni Cipriani destroys the majority of the district on orders from Donald Love. There is a hidden package behind the sign and a Forelli Exsess beside the building. There is also a building at the border between Fort Staunton and Newport although this building is destroyed. 'Bottiglia Liquor Wholesale' can be seen advertised on Yankees in-game.