"The indescribable Funktipus plays the indefinable funk. The sound that has had Los Santos partying for twenty years is now on 'The Party', on Bounce FM. The Funktipus will open your eyes to what is really happening out there."
―GTA San Andreas Website
Bounce FM is a funk, disco, soul and R&B radio station in Grand Theft Auto: San Andreas, hosted by The Funktipus (voiced by George Clinton).
Playlist
Songs marked with * don't appear in the Re-Released versions of the game.
Video
Trivia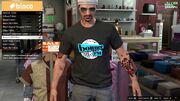 The song "Loopzilla" by George Clinton plays in the trailer for the mobile version of the game.
During the San Andreas Anniversary Weekend, it was possible to find a T-Shirt with the Bounce FM logo in the Special Crate drops in Grand Theft Auto Online.
During his radio chatter, the Funktipus utters lines from various Parliament-Funkadelic songs.
Some of the songs, such as "Funky Worm" and "I Can Make You Dance", featured on the station were an important backbone to the G-Funk genre which originated in the West Coast in the early '90s, in same era that the events of GTA San Andreas took place.
The songs "West Coast Poplock" and "Fantastic Voyage" can also be heard in the film South Central, a film that GTA San Andreas takes influence from. South Central was released in 1992, the same year as the events of GTA San Andreas.
The songs "Hollywood Swinging" by Kool & The Gang plays during Rhythm-based Minigames and mission Life's a Beach.
See Also