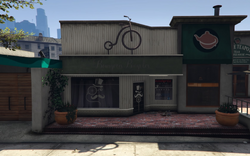 Bourgeois Bicycles is a small business in Grand Theft Auto V located next to Little Tea Pot and Periscope on Hawick Avenue in Burton, Los Santos. The business specializes in bicycle sales, maintenance and parts, and showcases the brands 3-Way, Tri-Cycles, Torpedo and Endurex on its windows, however, the bicycles cannot be purchased here. 
Trivia
The word 'bourgeois' refers to the characteristics of the middle class. Fittingly, the business' logo depicts a man with a top hat, a monocle and a moustache.
Ad blocker interference detected!
Wikia is a free-to-use site that makes money from advertising. We have a modified experience for viewers using ad blockers

Wikia is not accessible if you've made further modifications. Remove the custom ad blocker rule(s) and the page will load as expected.