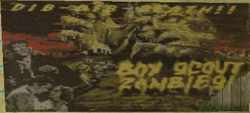 Boy Scout Zombies is a film which appears in Grand Theft Auto: Vice City. Posters for the film are seen on the outside of the walls surrounding the InterGlobal Films studio in Prawn Island, and it is likely that the film was made by InterGlobal Films as well. The posters also feature the tagline, "Dib-Dib-Death", along with an image of a zombie's face, and several terrified people.
Influence
Boy Scout Zombies maybe based on Teenage Zombies film, which was released in 1959.
Ad blocker interference detected!
Wikia is a free-to-use site that makes money from advertising. We have a modified experience for viewers using ad blockers

Wikia is not accessible if you've made further modifications. Remove the custom ad blocker rule(s) and the page will load as expected.