"Perfect for knocking out gold teeth, or as a gift to the trophy partner who has everything."
— GTA V Description
Wikipedia
Knuckle Dusters (known as Brass Knuckles in the 3D Universe) are a type of melee weapon featured in every 3D Universe game since Grand Theft Auto: Vice City, and are featured in Grand Theft Auto V and Grand Theft Auto Online, as part of the Ill-Gotten Gains Part 2 Update.
Description
"Sneaky wimps' way of punching. Highly illegal."
―GTA Vice City website
Brass Knuckles are metal devices with holes punched through them, intended to be worn on the fingers while the fist is clenched. They are meant to increase the force of a punch, while minimizing the initial force needed to throw an arm, and when used properly, they create massive damage against an intended target and can kill with only 2 or 3 direct hits. Brass Knuckles have been available in the 3D Universe since Grand Theft Auto: Vice City, except in Grand Theft Auto Advance. In each game, the force of a single Brass Knuckle punch is enough to knock a person to the ground; in which another attack will immediately kill them.
"Knuckle Dusters" were added to Grand Theft Auto V and Grand Theft Auto Online in the Ill-Gotten Gains Part 2 update on July 8, 2015, they are available from Ammu-nation in a standard smooth brass finish and the enhanced version allows the player to select from a range of 9 customised engraved and bejewelled options. Notable features includes:
Base Model: Basic version with engravings of roses.
The Pimp: Four bejewelled squares at the front with 4 jewels each (Red-White-White-Red) and more jewels.
The Rock: Silver variant with white jewels on the borders, giving it a metallic design.
The King: Four squares with crowns at the front, black and white starts and a pair of "LS" letters paired together and 2 more crowns.
The Hustler: Four Dollar signs ($) at the front and a "leopard" skin.
The Player: Four bejewelled spades at the front with 1 white and 2 red jewels each one, with a playing cards themed skin and 5 engraved "A"s.
The Lover: "LOVE" text at the front, bejewelled in white jewels and hearts skin.
The Hater: "HATE" text at the front, bejewelled in red jewels and a skin of razor wire.
The Ballas: Four spikes at the front, marked with an engraved Ballas logo.
The Vagos: Four squares with Los Santos Vagos logos and engraved guns and roses.
Locations
Grand Theft Auto: Vice City
Grand Theft Auto: San Andreas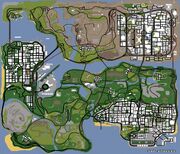 Grand Theft Auto: Liberty City Stories
Grand Theft Auto: Vice City Stories
Grand Theft Auto V
Grand Theft Auto Online
HUD Icons
Gallery
3D universe
HD Universe
Trivia
In some missions when the player must enter somewhere unarmed, the knuckles won't be recognized as a weapon.
In GTA San Andreas, once the player has completed The Da Nang Thang and has dated Katie and Barbara, and they equip the Brass Knuckles, they cannot be discarded and will be equipped permanently (unless one of the girlfriends are killed).
In GTA Vice City Stories, the player will always lose them when saving the game.
The engravings of a gun and roses under the Knuckle Duster is a reference to the American rock band Guns N' Roses.
Navigation
Weapons
Lists
Weapons in
Categories
Related topics
Ad blocker interference detected!
Wikia is a free-to-use site that makes money from advertising. We have a modified experience for viewers using ad blockers

Wikia is not accessible if you've made further modifications. Remove the custom ad blocker rule(s) and the page will load as expected.