The Broadway is a convertible lowrider featured in Grand Theft Auto: San Andreas.
DescriptionEdit
The Broadway is styled to bear resemblance to an open top car from the late 1940s, specifically based on a 1947 Cadillac Series 62 for the body style and 1948 Chevrolet Fleetmaster for the front fascia. It is only available in convertible form.
Broadways are also the only vehicles in the game that allows the player to do Pimping missions. In addition, being a lowrider that supports hydraulics from Loco Low Co., a Broadway can be used to participate in the Lowrider Challenge in Unity Station, Los Santos. If it has hydraulics, the lowrider control for hopping interferes with starting a pimping mission and vice versa, making it unfavorable for doing stunts and tricks.
Performance Edit
The Broadway's road-going credentials are good, possessing a good top speed and responsive cornering and braking. However, the Broadway's speed is hampered by slightly delayed acceleration, and can easily flip over if the hydraulics are jacked up. Although it doesn't appear to have a visible fuel cap, it will explode if the back license plate gets shot.
ModificationsEdit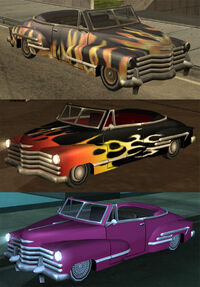 Being classified as a lowrider, the Broadway can only be modified at Loco Low Co., which provides the following modifications to the car:
Type
Upgrades
Cost
Paint Jobs
Paintjob 1
$ 500
Paintjob 2
$ 500
Colors
Car Color 1
$ 150
Car Color 2
$ 150
Exhausts
Chromer Exhaust
$ 500
Slamin Exhaust
$ 500
Front Bumper
Chromer Bumper
$ 1000
Slamin Bumper
$ 900
Rear Bumper
Chromer Bumper
$ 1000
Slamin Bumper
$ 900
Side Skirts
Chrome Strips
$ 1000
Wheels
Classic
$ 1620
Dollar
$ 1560
Twist
$ 1200
Wires
$ 1560
Trance
$ 1350
Cutter
$ 1030
Rimshine
$ 980
Virtual
$ 620
Access
$ 1140
Car Stereo
Bass Boost
$ 100
Hydraulics
Hydraulics
$ 1500
Nitro
2x Nitrous
$ 200
5x Nitrous
$ 500
10x Nitrous
$ 1000
LocationsEdit
Jizzy's Broadway has purple seats with a beech-color paintjob and bears a license plate which reads HO 2 HO. However, in the mission Ice Cold Killa, it has a teal paintjob and has teal seats. He may had bought a new one sometime after the mission, Jizzy, because CJ had to either keep or destroy Jizzy's Broadway due to the police putting out an APB on it.
The Broadway is a gang car for the Varrios Los Aztecas.
The default radio station in the Broadway is Master Sounds 98.3, or Playback FM if Carl steals one from an Aztecas gang member.
The car slightly resembles a Hermes, but a convertible version.
The Broadway is only featured as a convertible, but as such CJ will never hop over the door as opposed to other convertibles, such as the Comet.
The Beta design of the car features the car with Vice City's lowrider rims.
Both the Cadillac Series 62 Convertible and the Chevrolet Fleetmaster Convertible appeared as drivable vehicles in L.A Noire, a game also made by Rockstar Games.