For missions in GTA 1 associated with the car, see Bulldog (mission 1) and Bulldog (mission 2).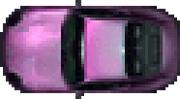 The Bulldog is a vehicle in Grand Theft Auto 1. It has great speed and handling, but it has low durability. It closely resembles an Aston Martin DB7. This is the first vehicle available to the player in Liberty City.
The Bulldog was replaced by the Super GT in the HD Universe.