Bullet Bus & Coach Line is a bus company, which operates in Vice City, San Andreas and Liberty City, during the events of the respective games. The logo for the company is a bullet next to the company's name on a coach.
Liberty City
Bullet started operating in Liberty City at some point before 1998 during the events of Liberty City Stories. They were still operating in 2001 during the events of GTA III. Their coaches can be found at the bus depot in Trenton.
Vice City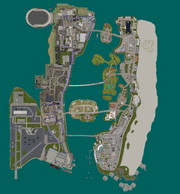 To earn $5 bonus per passenger boarding at bus stops marked with signs on poles, the protagonist can operate either a
Bullet Bus & Coach Line
or a
Whippet Express Coach
along either the West Island M1 or East Island M2 route (miniature route map pictured at right.) Hint: Stop with sign between wheel and door for quickest boarding. Passengers can board anywhere, but must contact the bus stop sign before boarding. There need not be passengers standing in line behind the bus stop sign pole, any NPC wandering nearby is likely to board and pay the $5 bonus fare, and there is no penalty for waiting any length of time at a stop for stragglers. When the player operates the bus, passengers do not disembark. When NPC operates three passengers often disembark from both sides.
Bullet started operating in Vice City some time between 1984 and 1986. Their buses were not present during the events of Vice City Stories, but operating during Vice City.
San Andreas
| | |
| --- | --- |
| | This article or section is Under Construction. |
Gallery
See Also
Ad blocker interference detected!
Wikia is a free-to-use site that makes money from advertising. We have a modified experience for viewers using ad blockers

Wikia is not accessible if you've made further modifications. Remove the custom ad blocker rule(s) and the page will load as expected.