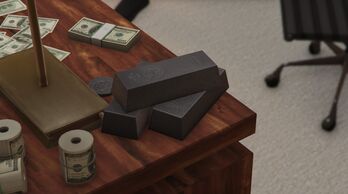 Bullion is a material first seen in Grand Theft Auto Online.
Description
Bullion is a bulk of gold or silver before it is made into coins and other items. Bullion is one of the numerous items that the player can smuggle in special crates as of the GTA Online: Further Adventures in Finance and Felony update. It is able to be sold by the player to potential buyers using the laptop in an organisation's warehouse.
Ad blocker interference detected!
Wikia is a free-to-use site that makes money from advertising. We have a modified experience for viewers using ad blockers

Wikia is not accessible if you've made further modifications. Remove the custom ad blocker rule(s) and the page will load as expected.