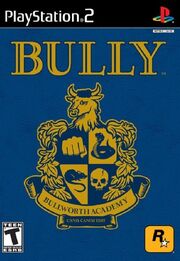 Bully
, also known as
Canis Canem Edit
, is a third person action-adventure video game released by
Rockstar Vancouver
for the
PlayStation 2
. The game was released as
Bully: Scholarship Edition
for the
Xbox 360
, Wii and
PC
.
Bully: Scholarship Edition
was released by Rockstar Vancouver, with
Mad Doc Software
(now known as Rockstar New England), involved with the development. The game uses an advanced
Grand Theft Auto: San Andreas
engine through
Renderware
.
The plot of the game revolves around 15 year old protagonist Jimmy Hopkins and his adventures at Bullworth Academy, a prestigious prep school in the town of Bullworth, New Hampshire.
Bully, specifically the school Bullworth Academy, was mentioned in an episode of I'm Rich, a reality television show in Grand Theft Auto IV. This indicates that the setting for Bully exists in the GTA universe.
References to Grand Theft Auto
Bully has several subtle references to the
GTA
franchise.
Wikipedia
External links