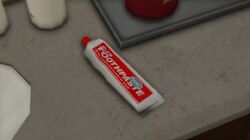 CJS Toothpaste is a toothpaste brand in Grand Theft Auto V. It seems to be based on Colgate, since the two brands share similar red and white colours. Tubes of Toothpaste can be found in the bathrooms of the Clinton and De Santa Residences.
Ad blocker interference detected!
Wikia is a free-to-use site that makes money from advertising. We have a modified experience for viewers using ad blockers

Wikia is not accessible if you've made further modifications. Remove the custom ad blocker rule(s) and the page will load as expected.