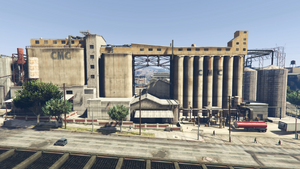 CMC (Central Milling Company) is a milling company in Grand Theft Auto V. Its main factory is located on Popular Street, Orchardville Avenue and Dry Dock Street in Cypress Flats, Los Santos, near the entrance to the Port of Los Santos. It is most likely based on the Cereal Food Processors factory in Los Angeles.
Gallery
Ad blocker interference detected!
Wikia is a free-to-use site that makes money from advertising. We have a modified experience for viewers using ad blockers

Wikia is not accessible if you've made further modifications. Remove the custom ad blocker rule(s) and the page will load as expected.