Note: This side-mission is available only for PS2 port of GTA Vice City Stories.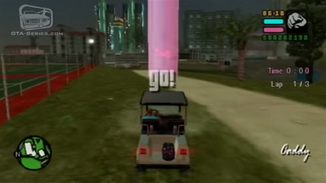 Caddy Daddy is a side-mission in Grand Theft Auto: Vice City Stories. The side mission consists of a 3-lap race around the Leaf Links Golf Club. To start it, enter the Caddy next to the entrance of the golf club. The player then needs to follow the checkpoints in three laps all over the golf course within a target time of less than 6 minutes. The reward is $2,500. It's required for 100% Completion.
Video Walkthrough
Ad blocker interference detected!
Wikia is a free-to-use site that makes money from advertising. We have a modified experience for viewers using ad blockers

Wikia is not accessible if you've made further modifications. Remove the custom ad blocker rule(s) and the page will load as expected.