The Cane is one of the many melee weapons in Grand Theft Auto: San Andreas. Also, although specifically listed as a gift by the game's system files (occupying the Other slot along with weapons such as the flowers), the cane cannot be given to anyone, and cannot be used as anything more than an accessory or a weapon. The cane also appears in Grand Theft Auto III, in cutscenes only when Asuka Kasen is seen torturing Miguel during a couple of the final missions of the game. A similar weapon called the Gaff Hook appears in Grand Theft Auto: Vice City Stories. The cane is the most common melee weapon found in GTA San Andreas, with as many as 17 spawning locations.
HUD Icon
Gallery
Locations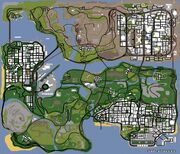 Los Santos
A cane spawns in 3 locations in Los Santos:
San Fierro
A cane spawns in 8 locations in San Fierro:
Las Venturas
A cane spawns in 4 locations in Las Venturas:
In the Pilgrim district, outside the front door of the main building of the large Pacific Island-styled motel.
In the Emerald Isle district, on the eastern edge of the casino's main building, next to a service entrance.
In the Prickle Pine district (2)
Flint County
A cane spawns in 2 locations in Flint County:
Characters using canes
Ad blocker interference detected!
Wikia is a free-to-use site that makes money from advertising. We have a modified experience for viewers using ad blockers

Wikia is not accessible if you've made further modifications. Remove the custom ad blocker rule(s) and the page will load as expected.