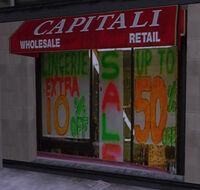 Capitali is a wholesalers and retail store in Grand Theft Auto III.
Description
Three branches of the store are located around Liberty City; One in the Red Light District, Portland Island, and two in Fort Staunton and Belleville Park, Staunton Island. The stores cannot be entered by the player. The store's windows show that the store is selling an extra 10% of lingerie and 50% off of other products.
Trivia
Capitali means "Capital" in Italian.

However, the store's name may also be a pun on "Capitalist", a person who supports Capitalism.
Ad blocker interference detected!
Wikia is a free-to-use site that makes money from advertising. We have a modified experience for viewers using ad blockers

Wikia is not accessible if you've made further modifications. Remove the custom ad blocker rule(s) and the page will load as expected.