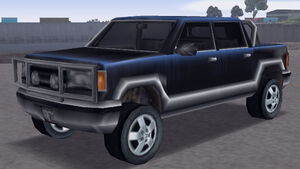 The Cartel Cruiser is a four-wheel-drive crew cab pickup truck. It is used exclusively by the Colombian Cartel in Grand Theft Auto III and Grand Theft Auto: Liberty City Stories.
Description
Design
In general, the Cartel Cruiser is a 4-door pickup truck, similar to a 2001-2004 Toyota Hilux or a 2002-2006 Chevrolet Avalanche, but featuring frontal styling of a generic 1990s Ford pickup truck. The Cruiser also features a roll bar in the back, side runners, a blue paintjob, and foglights on the grill. Similar to the Forelli Exsess, Sindacco Argento and Yardie Lobo, it does not have a non-gang variant.
At one point of game development of GTA III, the Cartel Cruiser was known as the Columbia, possibly a reference to the Colombian Cartel's name. The old name is still evidently used in a showcase of the truck at the official Rockstar North website. In the beta, the car was also black.
Performance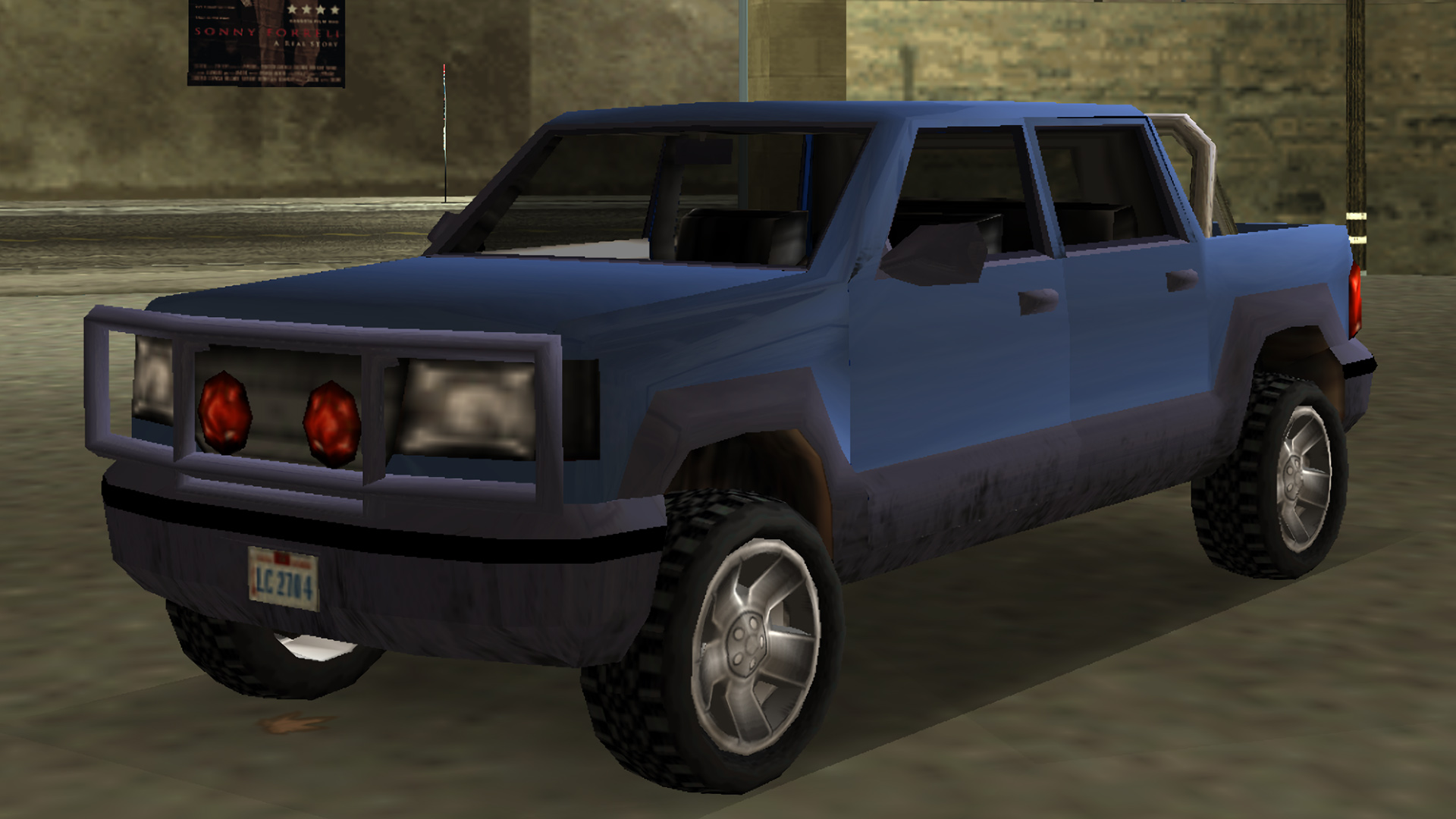 With a V8 engine, it is powerful enough to send its all wheel drive system into slides, which is unusual for the GTA III engine. The car is also turbocharged, but suffers from turbo lag, where the car has poor acceleration from a standing start, until the turbo cuts in. This can be heard, when the engine noise becomes louder and more aggressive. At higher revs, it can defeat a Patriot (a similar vehicle) in a straight line drag race. However, its high center of gravity causes the body to roll in corners. Strangely, its engine sound is same as the BF Injection and the Diablo Stallion, which is unusual for any four-door SUV in the series.
In GTA Liberty City Stories, the Cartel Cruiser has only a V6 engine and is considerably heavier and slower than in GTA III. Also, the engine sound is same as the Landstalker and the Patriot, but maintains much of its predecessor's design and accessories, with a noticeable change in the grill mounted spotlights (from white to red). While possessing poor acceleration, it's handling is reasonable, but it's top speed is moderate.
Locations
GTA III
GTA Liberty City Stories
See also
Cavalcade FXT, a somewhat similar truck in Grand Theft Auto IV and Grand Theft Auto: Chinatown Wars.
Patriot, a four-wheel-drive crew cab truck that shares the same vehicle polygon model as the Cartel Cruiser, but different textures, accessories (bumpers and trunk rack), and handling characteristics.
Contender, another truck in GTA IV which has a similar body design, but not crew cab and is based on a newer model Ford F150.