Cashfordeaddreams is a business and website seen in Grand Theft Auto V. The website is seen on the in-game internet and the business also has a Bleeter account.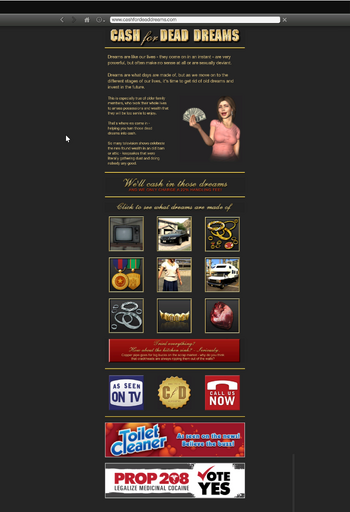 Description
The website advertises to buy any second hand goods that their customer's elderly relatives no longer use or need subject to a 22% handling fee. Each category of goods has an individual pop-up with a humorous description of why the goods should be sold out from under the elderly owner.
The website may harbor malware as there is a cashfordeaddreams.exe identified and cleaned from Rickie Lukens' computer by AntEater Antivirus during Friend Request.
On Bleeter
@CashForDeadDreams
Say goodbye to dying Grandma - say hello to a week in the Caribbean. Get Ca$h for that old bat's possessions at www.cashfordeaddreams.com