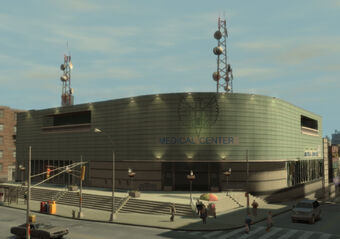 The Cerveza Heights Medical Center is a hospital in Grand Theft Auto IV and Grand Theft Auto: Chinatown Wars, located atInchon Ave and Livingston St in northern Cerveza Heights, Dukes.
Description
The hospital, distinguishable by its size and modern design, serves as a respawn point for the player if they die closest to this hospital. While there are no first aid kits, the only one without them, or interiors at the hospital, a hamburger stand, where the player can replenish their health, is based in front of the building in GTA IV. In GTA Chinatown Wars, a health kit appears in front of the hospital.
The hospital is situated across the street from the East Island City Police Station, which is actually within neighboring East Island City.