This article contains insufficient information and is considered as a Stub. You can help the GTA Wiki by expanding it as much as you can.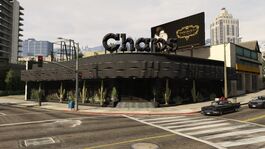 Chaps is a clothing store in Grand Theft Auto V. It is located at the intersection of Eastbourne Way and Abe Milton Parkway in Rockford Hills, Los Santos.
Its name either refers to Chaps, a clothing brand owned by Polo Ralph Lauren, or Champs Sports, having a similar name, or "chap" being a slang term for a penis. The building is inaccessible to the player.