"Are you quick enough to beat the Cheetah? Engage with the most famous routes guiding you to an alternate dimension, with elegant prop co-ordination taking you through a very unique route. You wouldn't have even thought of it until now."
―Race Description.
Cheetah Grand Prix is a Rockstar Verified User created race featured in GTA Online. It is only available in the Enhanced Versions of the game.
Map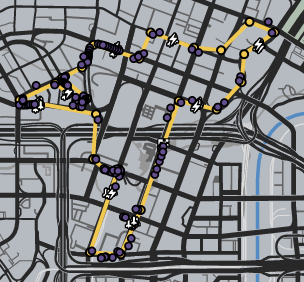 Ad blocker interference detected!
Wikia is a free-to-use site that makes money from advertising. We have a modified experience for viewers using ad blockers

Wikia is not accessible if you've made further modifications. Remove the custom ad blocker rule(s) and the page will load as expected.