Chihuahua Hotdogs is a brand of hotdogs in Grand Theft Auto IV and Grand Theft Auto V .
Description
The company was founded in 1982, according to one of their slogans. Featuring a dog (presumably a Chihuahua) fashioned as a sausage sandwiched between two hotdog buns as its logo, Chihuahua Hotdogs' imagery is most commonly found on both variants of hotdog vendors in the game; one variant extensively features Chihuahua Hotdogs' logos,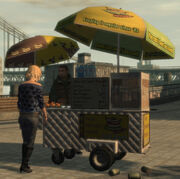 slogans and brandname, which may indicate the cart's equipment are franchised by Chihuahua Hotdogs; the second variant merely features a small Chihuahua Hotdogs sticker. It can be assumed that the hotdogs the player purchase from these vendors are Chihuahua Hotdogs.
Their slogans include "You can't beat our meat" (same as R. S. & L. Bows) and "Keeping it regular since '82".

In Grand Theft Auto V, in the background of Michael's trailer you can see a Chihuahua Hotdogs stand.