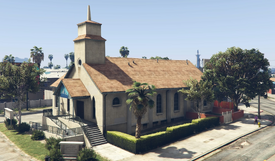 "Find out about yourself on the mountain"
―Sign on the front.
Children of the Mountain Fellowship is a religious building located on Strawberry Avenue and Forum Drive in Strawberry, Los Santos. It belongs to the Children Of The Mountain and is probably used to convert people or simply practice their beliefs. It is most likely based on the Compton Community SDA Church.
Gallery
Trivia
The letter "s" on the sign on the front has been removed, reading "Find out about your elf on the mountain".
Ad blocker interference detected!
Wikia is a free-to-use site that makes money from advertising. We have a modified experience for viewers using ad blockers

Wikia is not accessible if you've made further modifications. Remove the custom ad blocker rule(s) and the page will load as expected.