Chiliad Mountain State Wilderness
Talk

0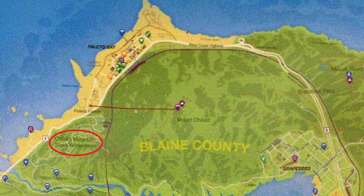 "Situated north of Raton Canyon, there's no better place to lose yourself than the Chiliad Mountain State Wilderness. More people go missing here than anywhere else in San Andreas."
— GTA V digital manual
Chiliad Mountain State Wilderness, is a state park within the State of San Andreas in Blaine County. The park's namesake, Mount Chiliad is the main feature of the park. Due to its large size it holds lots of wildlife such as deer and mountain lions.
Influence
It is based on the real life San Gorgonio Wilderness.
Wildlife
The State park is known for it's wildlife and Hunting which Trevor can participate in with Cletus who is a pro hunter. The park is also the location of the mission The Last One which is unlocked after 100% Completion of the game. The mission is famous as it involves tracking down, and killing bigfoot. Below is a list of known wildlife that inhabits the park.