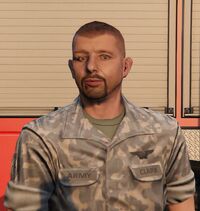 Clark is a U.S. Army soldier stationed at Fort Zancudo in 2013, along with Nolan, Starkie, Lloyd, and their colonel. According to the insignia on his uniform, he is a private.
Clark is a soldier of the 4th SYFM and the 9th Squadron Special Operations. In the PS3 & X360 versions he appears as a soldier of the 1st Cavalry Division.
Ad blocker interference detected!
Wikia is a free-to-use site that makes money from advertising. We have a modified experience for viewers using ad blockers

Wikia is not accessible if you've made further modifications. Remove the custom ad blocker rule(s) and the page will load as expected.