This article or section contains insufficient information and is considered as a Stub. You can help GTA Wiki by expanding it as much as you can.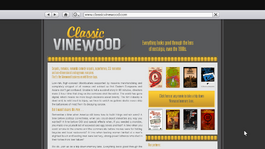 Classicvinewood.com is a website in Grand Theft Auto V. It shows all the best movies of Vinewood cinema from the golden age of the 30's, 40's and 50's to the 90's.
Of these films, only Capolavoro can actually be seen in game.
List of Movies
Harridan of the Seine (1933)
Curse of Triton (1941)
Bullwhip Fury (1952)
Capolavoro (1964)
Nelson In Naples (1964)
High School (1969)
Rum Runner (1973)
The Many Wives of Alfredo Smith (1975)
Bury Me (1977)
An American Divorce (1978)
Vinewood Zombie (1981)
Butchery and other Hobbies (1983)
Lions & Donkeys (1984)
Blue Blood (1986)
The Redeemer (1989)
Last Will and Testament (1991)
The Shoulder of Orion II (1992)
Arthur Penny's Sanitorium (1994)
Trivia
The website could be based on IMDb or Rotten Tomatoes both of which are websites dedicated to movies, movie information and movie reviews.
Michael De Santa has commented on two of the movies on this website, under the username "michaelds".