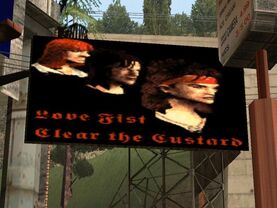 Clear the Custard is the fifth studio album of the Scottish heavy metal band Love Fist. It is mentioned only by a billboard in Grand Theft Auto: San Andreas.
Background
The album was released somewhere between 1986 and 1992, possibly closer to 1992, as it was still advertised that year, and a male business pedestrian (usually the one the players kill in C.R.A.S.H. missions) will often say "17 bucks for the new Love Fist CD!?" in public.  Anything else, such as track listing or the place of recording is unknown.
The billboard and a poster in a mission cutscene (both with only three members) indicates that Willy left the band after Grand Theft Auto: Vice City. The cover photo with black background, Jezz's gloomy face and the title written in Gothic font may refer to a darker era of the band.
Trivia
"Clear the custard" is slang term for masturbation.