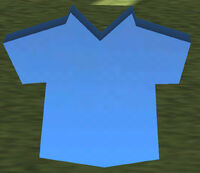 Clothing in Grand Theft Auto: San Andreas has been significantly expanded over its predecessor, allowing the player to extensively customize clothing the player's character wears using the wardrobe room, down to accessories. Articles of clothing are categorized by the stores they were purchased from (see #Clothing stores), following by the types of clothing, including:
Torso: Tops (shirts, jackets, tank tops, etc.)
Legs: Bottoms (pants)
Shoes: Footwear
Watches: Worn on the player character's left wrist
Chains: Necklaces
Shades: Glasses or masks
Hats: Headgear
Clothing has a 4% influence on overall Respect, and 50% on Sex Appeal.
Clothing stores
There are six different clothing stores that do business in GTA San Andreas. Each has a fitting room, where the player may "try on" items before purchasing them. Once an item is purchased, the name of the item changes from blue to green text; any article of clothing purchased at one of these clothiers is immediately worn by the player and made available in all wardrobes, which are contained in safehouses. However, if the player already owns an article of clothing and wishes to change to them at any corresponding clothing store, the player will have to repurchase the article of clothing, making wardrobe changes at clothing store impractical after the initial purchase. Some of the clothing on sale are available in green, the Grove Street Families' gang color.
Shooting or aiming a weapon at anyone inside any of these stores will disable purchasing from the shop until you leave.
The range of clothing stores in the game is as follows:
| Name | Description | Unlocked after |
| --- | --- | --- |
| Binco | Budget store selling low end and cheap clothing. Items sold at low pricing. | "Nines and AKs" |
| Sub Urban | Lower-middle range clothing store specializing on urban wear. Items sold at moderately low pricing. | "Nines and AKs" |
| ProLaps | Sporting store selling sports-related clothing. Items generally sold at moderate pricing, although some are considerably expensive. | "Nines and AKs" |
| Zip | Middle range store selling moderately priced clothing tailored for leisure. Items sold at moderately pricing. | "Are You Going to San Fierro?" (Unlocking San Fierro) |
| Victim | Upper-middle range store selling semi-formal outfits. Items sold at moderately high pricing. | "Learning to Fly" (Unlocking Las Venturas) |
| Didier Sachs | High end store selling formal or luxurious outfits. Items sold at high pricing. | "Saint Mark's Bistro" |
Locations
Binco
Sub Urban
Pro-Laps
Didier Sachs
Victim
Zip
Special outfits
Special clothing are specialized outfits that are awarded to the player via missions and girlfriends, provided in sets that encompass the top, bottom and shoes. While seemingly depicted as independent sets of outfits, the clothes are in fact simply added over the player's normal combination of clothing, as the player's normal top, bottom and shoes are still being worn. The player's watch, hat, necklace and glasses remain visible while wearing a special outfit.
If the player is arrested or killed, the player's special outfit reverts to their normal clothing after respawning, usually the clothing that the player is wearing before changing to the special outfit.
Image
Name
Description
Unlocked after
Gimp Suit
Leather/PVC bondage suit. It is the only special outfit that the player will gain immediately after gaining a girlfriend as opposed to reaching 100%.
"Key to Her Heart"
Valet Uniform
Red vest, white shirt, bow tie, black slacks and black shoes. Similar in design as the Croupier outfit.
"555 We Tip"
Rural Clothes
Denim overalls, a dark gray and red sleeveless plaid shirt and gray boots.
Gain 100% relationship with Helena Wankstein
Croupier Outfit
Black vest, white shirt, bow tie, black slacks and black shoes. Similar in design as the Valet Uniform.
"Breaking the Bank at Caligula's"
Cop Outfit
Los Santos Police Department uniform: Black shirt with white T-shirt, black pants, black shoes and police belt; similar in design as the Medic Uniform.

Unlike in GTA Vice City wearing the outfit does not allows the player to venture into police compounds and restricted interiors without attracting police attention.

Gain 100% relationship with Barbara Schternvart
Pimp Suit
Blue suit with a white frilly shirt, a dollar necklace and platform shoes.
Gain 100% relationship with Denise Robinson
Racing Suit
Blue racing jumpsuit with various logos, including those of Michelle's Auto Repair at the front and back, and gray boots.
Gain 100% relationship with Michelle Cannes
Medic Uniform
Los Santos medic uniform: baby blue shirt with white T-shirt, dark blue pants, black shoes and medic belt. Similar in design as the Cop outfit.
Gain 100% relationship with Katie Zhan
Balaclava
Black balaclava. Worn only during the burglary side-missions.
Start the burglary side-missions
Trivia
You can unlock all clothing stores by the Jetpack glitch in the beginning cutscene of the first storyline. Except special outfits.
See also
Other player character-altering features:
Ad blocker interference detected!
Wikia is a free-to-use site that makes money from advertising. We have a modified experience for viewers using ad blockers

Wikia is not accessible if you've made further modifications. Remove the custom ad blocker rule(s) and the page will load as expected.