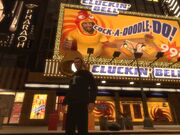 Cluck Norris is the mascot for Cluckin' Bell in Grand Theft Auto IV and is mentioned in Grand Theft Auto: San Andreas. He is African-American and wears a yellow chicken helmet.
Appearances
Trivia
"Cluck Norris" is an obvious play on Chuck Norris.
A free Cluck Norris action figure apparently comes with every kids meal, similar to how CB included Bobby Broiler (chicken) action figures with every kids meal in GTA San Andreas (seen on Cluckin' Bell's website).