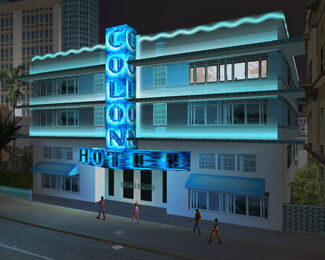 The Colon Hotel is a hotel in Grand Theft Auto: Vice City located along Ocean Drive, in Ocean Beach, Vice City. While driving through the Ocean Drive, several Colon Hotels can be seen. The hotel is otherwise unremarkable, being inaccessible to the player.
The hotel is evidently based on the real-life Colony Hotel in Miami Beach, albeit with a stretched facade and the signage omitting the original name's "Y" that results in its present name, a play on the final part of the digestive system.
The hotel is unnamed in Grand Theft Auto: Vice City Stories.
See Also
Ad blocker interference detected!
Wikia is a free-to-use site that makes money from advertising. We have a modified experience for viewers using ad blockers

Wikia is not accessible if you've made further modifications. Remove the custom ad blocker rule(s) and the page will load as expected.