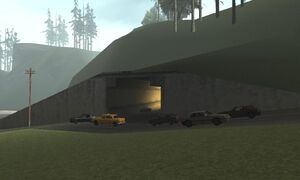 Colt Tunnel is a large tunnel underneath The Farm in Flint County, near San Fierro. The tunnel is straight and can be used as a route from Los Santos to San Fierro and vice versa. The tunnel is just to the south of Easter Bay Chemicals.
When the player enters the tunnel, just like any other tunnel, it will be seen as a dimly lit alley way, however the player can just follow the road to the exit.
Not many cars pass through the tunnel, which means it is easy for the player to jump to Easter Bay Airport if they have not unlocked it.
Gallery