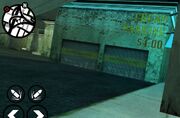 The Commerce Garage is a garage featured in Grand Theft Auto: San Andreas.
Description
The garage is located in the district of Commerce, Los Santos, under the intersection of the Los Santos Freeway and the East Beach Freeway Extension. Deleted dialogue from the mission Life's a Beach reveals the garage is owned by LB, who owns another garage in Playa del Seville.
The garage is featured only in Life's a Beach, in which it is used to store a sound van that was stolen from a beach party. The interior is seen only during a cutscene and is not accessible to the player.
The garage advertises cheap parking for $4.00.
Ad blocker interference detected!
Wikia is a free-to-use site that makes money from advertising. We have a modified experience for viewers using ad blockers

Wikia is not accessible if you've made further modifications. Remove the custom ad blocker rule(s) and the page will load as expected.