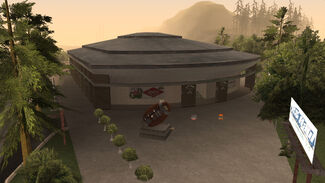 "The official home of the Sixty-Niners! The most up and down, you win some, you lose some team in sports!"
— GTA San Andreas Website
Corvin Stadium is San Fierro's primary stadium, located in the Foster Valley district at the southeastern end of the city in Grand Theft Auto: San Andreas. It is the home to the San Fierro 69ers and the Packers. There are also vending machines and food stalls around the place. The player may also partake in an event here, which is needed for 100% Completion. The stadium is based on Candlestick Park in San Francisco, a football and baseball stadium.
Event
Stationary Vehicle
Trivia
Ad blocker interference detected!
Wikia is a free-to-use site that makes money from advertising. We have a modified experience for viewers using ad blockers

Wikia is not accessible if you've made further modifications. Remove the custom ad blocker rule(s) and the page will load as expected.