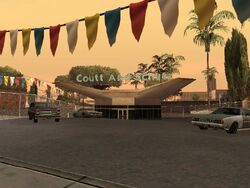 Coutt and Schutz is a small used car dealership located on Mulholland Drive in Jefferson, Los Santos. The dealership's name is a reference to the term cut and shut, where a car is cut in half and then welded onto half of another car. Appropriately, many of the cars for sale are 'beater' cars.
Spawning Vehicles
Ad blocker interference detected!
Wikia is a free-to-use site that makes money from advertising. We have a modified experience for viewers using ad blockers

Wikia is not accessible if you've made further modifications. Remove the custom ad blocker rule(s) and the page will load as expected.