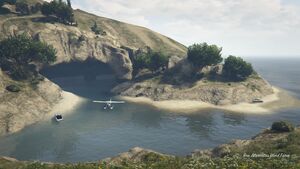 Coveted Cove
(unofficial name) is a natural feature in
San Andreas
in
Grand Theft Auto V
.
Description
The location is a small cove on the eastern coast of San Andreas with a water-filled cave on the north side. It is located at the southern end of the San Chianski Mountain Range in Blaine County, just north of the county line. The Palmer-Taylor Power Station lies to the south, the RON Alternates Wind Farm to the west and Davis Quartz quarry to the north. There is no road access to the cove, however the terrain is not impassible from the nearest road, Senora Way.
A letter scrap and a spaceship part can be found in the cave, as well as a Grenade Launcher.
Mission Appearances
Gallery
Trivia
There is no name given for the location in any of the events in which it appears.
Ad blocker interference detected!
Wikia is a free-to-use site that makes money from advertising. We have a modified experience for viewers using ad blockers

Wikia is not accessible if you've made further modifications. Remove the custom ad blocker rule(s) and the page will load as expected.