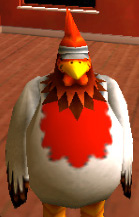 The Cox Mascot Outfit is an outfit available to Toni Cipriani during the course of Grand Theft Auto: Liberty City Stories. The outfit is essentially a large chicken costume. The outfit is unlocked after completing the SlashTV side mission twice. The outfit is the same worn by the mascot for the Liberty City Cocks American football team.
Ad blocker interference detected!
Wikia is a free-to-use site that makes money from advertising. We have a modified experience for viewers using ad blockers

Wikia is not accessible if you've made further modifications. Remove the custom ad blocker rule(s) and the page will load as expected.