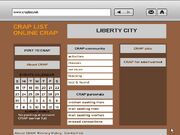 Craplist.net is a website that is accessible on the internet in Grand Theft Auto IV. It is a parody of the real life Craigslist. In here, Niko can meet Alex Chilton one of the five potential girlfriends in the game.
There are several things to check out on this site, most prominently personal ads for those of various sexual persuasions. While it is possible to select "contact user" under these classifieds, only Alex Chilton will respond ("Party girl seeks man for NSA fun and blog material - 29" is her ad); the other ads are simply there for humour value. The other two Internet girlfriends are contacted through www.love-meet.net.
Gallery
Ad blocker interference detected!
Wikia is a free-to-use site that makes money from advertising. We have a modified experience for viewers using ad blockers

Wikia is not accessible if you've made further modifications. Remove the custom ad blocker rule(s) and the page will load as expected.