Credits in The Lost and Damned can be seen following completion of "Get Lost". During the credits the player may see different scenarios from TLAD, and the original GTA IV. Whether it be from one protagonist's point of view or in some cases together. During the credits three different songs can be heard playing: "Every Picture Tells a Story" by Rod Stewart, "Touch Too Much" by AC/DC, and "China Grove" by The Doobie Brothers. The following can be revealed:
Museum shootout from different points of view. Johnny Klebitz coming out of museum from the right exit, Niko shooting his way out the left exit and stealing a PMP 600, and Luis Fernando Lopez escaping via the roof and shooting from the skylight.
Closing Credits Video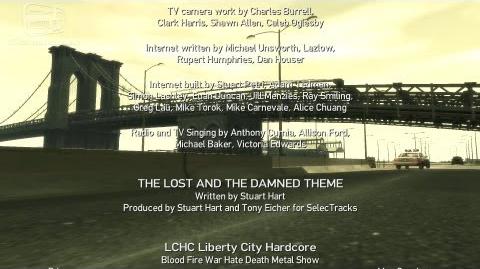 Trivia
See Also
Ad blocker interference detected!
Wikia is a free-to-use site that makes money from advertising. We have a modified experience for viewers using ad blockers

Wikia is not accessible if you've made further modifications. Remove the custom ad blocker rule(s) and the page will load as expected.