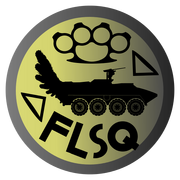 "Live by honor. Die by honor. Live by EvanKnish, die by EvanKnish."
―Motto #1
"Join like the best or die like the rest."
―Motto #2. Which is better?
The Fear League Squad (FLSQ) is a crew on Grand Theft Auto Online, created by EvanKnish on April 27, 2016. The crew is famous for its epicness and toughness and the good part is that anyone is able to join. So do it now.
Ad blocker interference detected!
Wikia is a free-to-use site that makes money from advertising. We have a modified experience for viewers using ad blockers

Wikia is not accessible if you've made further modifications. Remove the custom ad blocker rule(s) and the page will load as expected.