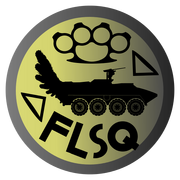 "Live by honor. Die by honor. Live by EvanKnish, die by EvanKnish."
―Motto #1
"Join like the best or die like the rest."
―Motto #2. Which is better?
The Fear League Squad (FLSQ) is a crew on Grand Theft Auto Online, created by EvanKnish on April 27, 2016. The crew is famous for its epicness and toughness and the good part is that anyone is able to join. So do it now.