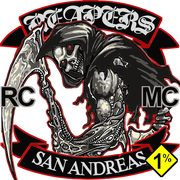 Reapers Chapter MC is a crew based in GTA Online that is on xBox LIVE and the Playstation Network. The crew is based in San Andreas and is self described as one of the most powerful Motorcycle Clubs at the moment. They are described one of the friendliest also but if you cross them, they do not forgive and they do not forget. If you are looking to join them then click here to go to their website. Here are the links to the xBox Live or Playstation Network Social Club crews.
How long has RCMC been around?
Reapers Chapter MC was founded on Sep 24, 2013, by a US Marine and a Australian gamer who both had one common interest, American-built motorcycles
Why choose RCMC?
Because we are one of the best Motorcycle clubs out there, why wouldn't you choose RCMC?
Ad blocker interference detected!
Wikia is a free-to-use site that makes money from advertising. We have a modified experience for viewers using ad blockers

Wikia is not accessible if you've made further modifications. Remove the custom ad blocker rule(s) and the page will load as expected.