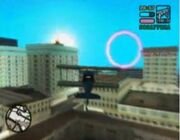 Crims on Wings is a side mission in Grand Theft Auto: Vice City Stories which consists of using the Biplane to fly over checkpoints scattered across Vice City. The player has four minutes to beat the initial target time. By completing the mission, the player is rewarded with $500. This side-mission is required for 100% Completion.
This mission can be difficult to some players because missing just one checkpoint can be enough to compromise the whole side mission, although if the player has got at least some experience on piloting the Biplane, it can be easily accomplished.
Video Walkthrough
Ad blocker interference detected!
Wikia is a free-to-use site that makes money from advertising. We have a modified experience for viewers using ad blockers

Wikia is not accessible if you've made further modifications. Remove the custom ad blocker rule(s) and the page will load as expected.