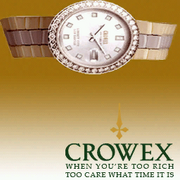 Crowex is a watch manufacturer from Grand Theft Auto: San Andreas, Grand Theft Auto: Liberty City Stories and Grand Theft Auto IV, which parodies the watch manufacturer Rolex.
In Grand Theft Auto: San Andreas CJ can buy two types of Crowex watches from Didier Sachs, both of which are the most expensive watches available in the game. The brand also features in GTA IV on Peepthatshit.com.
Trivia
The company's slogan in 1992 is "When You're Too Rich Too Care What Time It Is". This is misspelled; the second "too" must be replaced by "to".
In GTA San Andreas, its logo is similar to the one used in the pause menu.
In GTA Chinatown Wars, African American drug dealers, when selling drugs at discount can say they are selling "Crowex quality at Gaunt prices" , implying Crowex products are reliable.