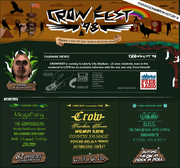 Crowfest '98 is a benefit concert held in Liberty City Stadium in 1998, during the events of Grand Theft Auto: Liberty City Stories. It is sponsored by the Liberty Tree and Flashback FM, and cannot be watched by the player. Its taglines are "More a way of life than a festival really" and "Making charity history", a play on Live Aid's "Make poverty history".
Description
The concert features English musician Crow and a few other acts, the names of which are references to real-life bands and performers. It is held in three stages: the Woodland Stage, the Lazer Boyz Stage and the World Orchestra Stage. A complete lineup is listed below.
Woodland Stage
Lazer Boyz Stage
World Orchestra Stage
Trivia
External Links
Ad blocker interference detected!
Wikia is a free-to-use site that makes money from advertising. We have a modified experience for viewers using ad blockers

Wikia is not accessible if you've made further modifications. Remove the custom ad blocker rule(s) and the page will load as expected.