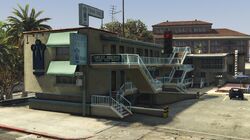 Crown Jewels Motel is a motel located next to Tree Tops on Bay City Avenue in Del Perro, Los Santos. 
Description
The business offers sixteen rooms and operates an office which is open daily. As well as having access to a six-space parking lot and a balcony, residents are free to use a swimming pool, complete with a fixed umbrella.
Gallery
Trivia
The business accepts Fleeca credit cards as a payment option.
The term "crown jewel" is used to refer to one's private parts.
Ad blocker interference detected!
Wikia is a free-to-use site that makes money from advertising. We have a modified experience for viewers using ad blockers

Wikia is not accessible if you've made further modifications. Remove the custom ad blocker rule(s) and the page will load as expected.