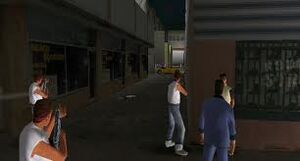 The Cuban-Haitian Gang War was a gang war fought between the Vice City sets of the Los Cabrones and the Haitians street gang during 1986.
The Start of the War
In 1986, a Haitian Ganglord was murdered. The Haitians believed the Cubans to be responsible, but there was no definitive proof. Real estate developer Avery Carrington manipulated the situation by getting Tommy Vercetti to disguise himself as a Cuban gang member, ambush the Ganglord's funeral and kill his successor, which would ignite the gang war and drive down real estate prices. Following the attack, the Haitians quickly declared war on the Cubans and the two gangs began attacking each other. Tommy received a call from a man named Umberto Robina, who believed he was speaking to a man named Leo Teal (Tommy had killed Leo and taken his mobile phone). Impressed by Tommy's "cojones", Umberto told Tommy to meet him at his father's café.
The Middle of the War
Robina's jobs for Tommy included handling a boat, stealing a drugs van, and ambush a drug deal between the Haitains and the Streetwannabes.
The Tables Turn
After working with Umberto, Tommy received a call from a woman named Auntie Poulet, who tells Tommy to meet her at her home in Little Haiti. It then transpires that Poulet is the leader of the Haitians, and she drugs Tommy with voodoo potion and makes him collect some drugs stashed around Little Haiti, destroy some Cuban drug boats and uses a sniper rifle to kill Cuban gang members during a Cubans-Haitians fist fight. Following these jobs, Poulet cuts her ties with Tommy and tells him not to visit Little Haiti again.
The End of the War
After severing his ties with the Haitians, Tommy works with the Cubans one final time and helps Rico and Pepe infiltrate a Haitian Drugs Factory. Tommy plants bombs around the factory and escape. After getting clear of the factory, the bombs detonate and destroy the factory. The destruction of the factory severely weakens the Haitians, handing victory to the Cubans.
See Also