Cunning Stunt Academy is a stunt school in Los Santos that only appears in TV advertisements.
The advertisement says that the stunt school practices real and dangerous stunts, where the participants are generally harmed during the process, with little to no protective equipment in order to make the stunt. According to the same, this is an opportunity for bored and stupid people (hinting the fact that only the most capable are able to survive).
Known Courses
Video
GTA Online: Cunning Stunts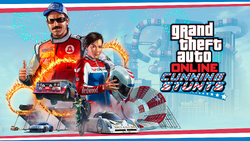 An update to Grand Theft Auto Online includes new gear, racing and stunt vehicles, and stunt races. It is named "Cunning Stunts".
Trivia
Ad blocker interference detected!
Wikia is a free-to-use site that makes money from advertising. We have a modified experience for viewers using ad blockers

Wikia is not accessible if you've made further modifications. Remove the custom ad blocker rule(s) and the page will load as expected.