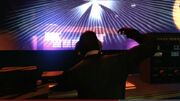 Paul Martin is a character in Grand Theft Auto: The Ballad of Gay Tony who appears as a radio DJ and a minor character.
Description
DJ Paul is a British DJ of Vladivostok FM who played live at the Bahama Mamas LC nightclub in Liberty City. He was one of the witnesses amongst the many club-goers to Luis Lopez's shootout with the security and murder of Vic Manzano.
Quotes
Trivia
Ad blocker interference detected!
Wikia is a free-to-use site that makes money from advertising. We have a modified experience for viewers using ad blockers

Wikia is not accessible if you've made further modifications. Remove the custom ad blocker rule(s) and the page will load as expected.