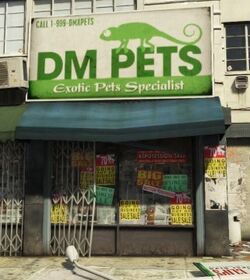 DM Pets is an exotic pet specialist located next to Vinewood Records on Eclipse Boulevard in the Los Santos neighborhood of West Vinewood. It is located a couple of blocks away from the nightclub Tequi-la-la, and is going out of business, according to signs. Its telephone number is shown to be 1-999-DMXPETS.
Trivia
An advertisement for the beer company Cerveza Barracho is attached to a lamp pole outside the store.
Ad blocker interference detected!
Wikia is a free-to-use site that makes money from advertising. We have a modified experience for viewers using ad blockers

Wikia is not accessible if you've made further modifications. Remove the custom ad blocker rule(s) and the page will load as expected.