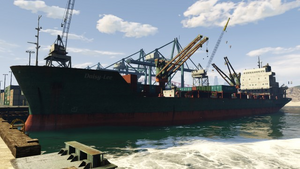 The Daisy Lee is a container ship in Grand Theft Auto V. She is a green and red small to medium-sized container ship docked at the Terminal, in Los Santos. Her port of registry is Pumpherston.
Prominent Appearances in Missions
The Daisy Lee makes an appearance in the Minisub heist setup mission. Trevor steals a Submersible attached to one of the cranes, either by dropping it using the commands of the deck, or by shooting the wires from the dock.
Gallery
Trivia
Her name could be a reference to the show The Dukes of Hazzard. Daisy Lee is a portmanteau of Daisy Dukes (one of the main characters) and the General Lee (the main vehicle). It could also be a reference to the character Daisy Lee from Far Cry 3 who also fixes up a boat in the story.
Both the Daisy Lee and the SS Bulker use the same model, the only differences being the SS Bulker holding more containers on the deck and having a black base color instead of green.

Coincidentally, the Submersible stolen from the Daisy Lee can be used to rob the SS Bulker if the player has chosen the Freighter approach for The Merryweather Heist.

Her port of registry, Pumpherston, is also the name of a village in Scotland. However, it is unlikely this is her home port as Pumpherston is located inland.
See Also