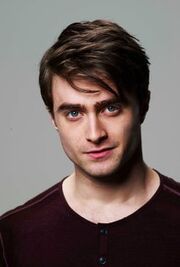 Daniel Radcliffe (born 23 July 1989 in Fulham, England) is an English actor. He plays the role of Sam Houser in the TV programme The Gamechangers.
He is mainly known for his role of Harry Potter in the Harry Potter movie series. He has also starred in movies such as Woman in Black and Horns.
External Links
Ad blocker interference detected!
Wikia is a free-to-use site that makes money from advertising. We have a modified experience for viewers using ad blockers

Wikia is not accessible if you've made further modifications. Remove the custom ad blocker rule(s) and the page will load as expected.