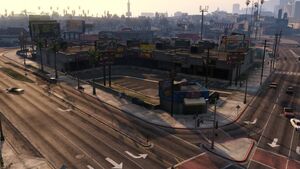 Davis Plaza (unnamed in-game) is a plaza down the street from the Chamberlain Mall, and across the street from the Central Los Santos Medical Center in Davis, Los Santos. The Ballas like to gather around the plaza.
Businesses
Bad Day Goods
Fowl Mouthed Fried Chicken
Mom's Tacos
Sheet Yourself Laundromat
She-Nails & Surprise Facials
Zany-Z's Hot Deals
Gallery
Ad blocker interference detected!
Wikia is a free-to-use site that makes money from advertising. We have a modified experience for viewers using ad blockers

Wikia is not accessible if you've made further modifications. Remove the custom ad blocker rule(s) and the page will load as expected.